I'll keep this short and sweet - Inferno Towers gave us a lot of hell during the last war. They are one of the strongest defenses, it's not necesarily their DPS, but because they negate healing effects.  Let me say that again:
INFERNO TOWERS COMPLETELY NEGATE HEALING EFFECTS.

Got a Healer with your army?  Doesn't matter, Inferno Tower stops her heals from doing anything. 

Did you bring Healing spells for your raid?  Doesn't matter, Inferno Tower stops your healing spells from doing anything. 

Fun fact - Inferno Towers were originally made with Single Target only ability.  SuperCell changed it so that players can make them multi-target (each Inferno can hit
FIVE
targets at a time), in an effort to nerf Hog Rider attacks that were stacked with healing spells.  That's right, these over powered multi target, heal-stopping inferno towers were DESIGNED to stop your Hog Riders from doing squat.  What's that mean?
DO NOT RAID A TH10 WITH TWO MULTI-TARGET INFERNO TOWERS BY USING HOG RIDERSHow to tell if an Inferno Tower is on the multi or single target setting: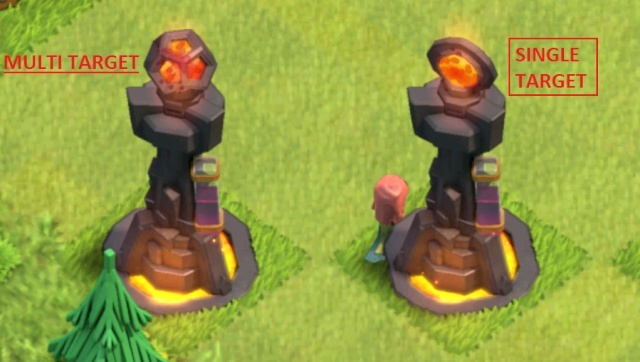 Also, if you're learning to raid TH10's with Infernos for the first time - please practice through normal raids, don't try to learn during war, during war let's stick with what we know  

Footnote: It is true that the single fire Infernos do not mitigate healing effects, but they do so much stacking damage that there is no healing effect in the game strong enough to heal through it.  So if that single focus inferno locks on your golem, PEKKA, Barb King, it will die FAST regardless of healing.


Similar topics
---
Permissions in this forum:
You
cannot
reply to topics in this forum